By Alison Gibbs
"And you may ask yourself, 'Well … how did I get here?'"
Talking Heads, Once in a Lifetime
In my career, I've been a Wall Street wire reporter, a radio and TV news producer, a banking PR flack, and a government consulting marketeer, among other things. So how did I get to the Ogunquit Museum of American Art (OMAA)? The short answer is some arts management classes, the New England Museum Association website, and some soul searching.
According to research on why people participate in the arts, I may be an arts aficionado: a devoted follower who views the arts as a "transporter." Maybe you are too. You know that feeling you have when you look at a great piece of art and you 'get it' (whatever 'it' is for you)? I love that feeling! And I thought, how great would it be to work in a place that's so close to my cerebral happy place? Could I bring my professional skill set to a place like that? As it turns out, I could, and now I'm the OMAA's new Director of Marketing and External Relations.
I have family in Ogunquit and got married here, so the 'beautiful place by the sea' was not new to me. But the museum was. The OMAA and its three acres of sculpture gardens overlook Narrow Cove and the Atlantic Ocean. It's stunning. Come see for yourself when we reopen for the season May 1.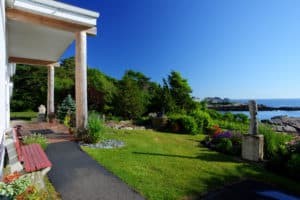 I've been reading A Century of Color by Louise Tragard, Patricia E. Hazrt, and W.L. Copithorne to learn about some of America's earliest art colonies and the artists who lived in Ogunquit or passed through and helped to shape American modernism. I had first learned about Marsden Hartley a few years earlier while reading Dogtown: Death and Enchantment in a New England Ghost Town by Elyssa East, so I was pleased to read about his connection to Ogunquit in A Century of Color, and I was really interested to see his Still Life with Eel hanging in the OMAA's Barn Gallery when I came for an interview.
Originally a gift from Hartley to the poet William Carlos Williams, the painting was given to the OMAA by the poet's wife after his death.
Now I'm also looking forward to learning more about artists like Bernard Karfiol, Yasuo Kuniyoshi, Robert Laurent, Walt Kuhn, and Peggy Bacon, and how they, too, influenced American modern art.
Marketing is storytelling and the OMAA has so many great stories to tell! For instance, the Karfiol family recently donated materials dating back to Bernard's time teaching at Hamilton Easter Field's Summer School of Graphic Arts. Field was a pioneer who pushed Ogunquit to the forefront of American modernism, and Karfiol, an Ogunquit master, taught painting at the school. An OMAA colleague is right now combing through and cataloguing the gifted materials in preparation for this summer's opening exhibition, Bernard Karfiol: Ogunquit Master.  We'll let you know what she finds!
My work and enthusiasm for modern and contemporary American art bring me to the OMAA. In our 2016 season, I hope to see you here too!