Charles Woodbury: Open Studio
(Objects pictured left to right)

Unidentified Maker
Steamer Trunk
c. 1935
Courtesy of Private Collector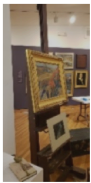 Unidentified Maker
Charles Woodbury's Tilting Easel
c. 1920
Wood and hardware
Courtesy of Philip Crawford
Charles Woodbury (1864-1940)
Untitled (Unfinished landscape)
c. 1935
Courtesy of Peter Woodbury
Unidentified Maker
Charles Woodbury's paint box, palette, paints
c. 1910-1930
Courtesy of Peter Woodbury
Charles Woodbury (1864-1940)
Dutch Vase, Charles Woodbury's Paint Brushes
c. 1920-1940
Miscellaneous sizes
Courtesy of Peter Woodbury
Unidentified Maker (Early 20th century)
Ladder back chair with rush
c. 1900
Wood and dried sea grass
Courtesy of Christopher and Judith Woodbury
Unidentified Maker (Late 19th century)
Hand-carved Dutch shoes, miniature
c. 1890
Carved wood
Charles Woodbury (1864-1940)
(Inscribed) At Sea, Second Sketch for Mid Ocean
1894
Oil on canvas
Courtesy of Peter Woodbury

This oil study painted at sea appears sliced from a larger swatch of canvas. The artist detailed notes, possibly a working title, to one side indicating this study is a second sketch for a larger painting, likely Bow Wave or Mid Ocean pictured in this display.
Woodbury used oil studies and hand-held cards to focus his attention, to train his eye in observation of internal forces. He felt it was the job of the artist to see and interpret what the scientist could only report.
Charles Woodbury (1864-1940)
Untitled (Sketches of Terriers)
1918
Courtesy of Christopher and Judith Woodbury
Charles Woodbury (1864-1940)
Untitled (Bow Wave)
c. 1894
Oil on canvas
Courtesy of Peter Woodbury
In 1890, newlyweds Charles Woodbury and Marcia Oakes set sail for extended honeymoon in Europe. Visiting Holland, France, Italy and several other European countries, the excursion resulted in a series of mid-ship compositions.Painting from the deck of the vessel, Woodbury tuned his attention to the turbulent uprising between the bow of the ship and action of the wave. A recent graduate in engineering at MIT Woodbury's interest in the mechanics of nature guided his choice of subject and style. In physics, when an element is exerting force, an equal force (known as reaction physics) will push back in the opposite direction. Woodbury narrows the focus of this composition to a truncated view of the bow, which functions as force, creating a disturbance to surrounding water. The disturbance results in a smother of foam as the reaction. The ability to compose force became an essential element in all Woodbury's instruction to his students. During Saturday morning painting demonstrations, Woodbury prompted students to think like scientists, to consider the potency of energy, to recognize that little in nature is accidental.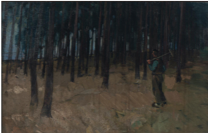 Charles Woodbury (1864-1940)
Untitled (Dutch Peasant with Axe)
c. 1891
Oil on canvas
Courtesy of Peter Woodbury
Charles Woodbury painted this twilight woodland scene during his first trip to Holland, an extended honeymoon tour of Europe with his wife, artist Marsha Oakes Woodbury. Both composition and color palette reveal the influence of his instructors during this period, academic classicists Jules Joseph Lefebvre and Gustave Boulanger, with whom Woodbury studied at Academie Julian in Paris. The Dutch woodsman is presented in profile, still as a tree amid a dense pattern of forest, a direct comparison to Lefebvre's portraits and Boulanger's figures posed in exotic settings. A deep palette of sepia, umber, and cobalt green also suggests that Woodbury was influenced by the popular movement in tonalism sweeping Europe. Tonalism was an artistic style that emerged in the 1880s when American artists began to paint landscape forms with an overall tone and atmosphere. Through the veil of trees, a partially concealed lakefront underscores the mood, but the subdued tenor of the forest at twilight is deceptive. Guided by his background in mechanical engineering at MIT, and largely self-taught, Woodbury's seemingly quiet landscape is all potential energy. Upon becoming a teacher himself in Boston and Ogunquit, Woodbury lectured his students on the topic of "force through delicacy." The solitary woodsman, in contemplation of his task, is about to swing his axe. Within a composition of apparent solitude, the forest floor is alive with energetic brushstrokes that emphasize the artist's decree – nature is alive with motion, palpable or imperceptible.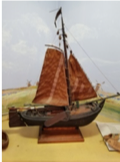 Charles Woodbury (1864-1940)
Volendama Kwak
c. 1900
Wood carved boat with canvas masts
Courtesy of Christopher and Judith Woodbury
Woodbury's hand-crafted model of a Dutch Kwak (boat) followed one of his visits to Holland with his wife Marcia Oakes Woodbury. The Volendama Kwak was one of several types of Dutch and Flemish shipping vessels used in the collection of shrimp, mussels, and herring in the province of Volendam, a Dutch town on the Markermeer Lake, northeast of Amsterdam. Volendam is known for its colorful wooden houses and the old fishing boats in its harbor, which is lined with seafood vendors. The Kwak was the most well-known vessel in Volendam.Each component of the ship model is hand-wrought, including the sail and moveable parts. The ship was conserved by Ogunquit resident, Mike Horn, former Commission Coordinator with the Maine Department of Geological Survey and Maine Department of Environmental Protection.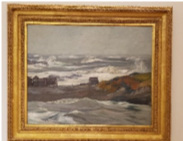 Charles Woodbury (1864-1940)
Fishing Village, Perkins Cove
1932
Oil on canvas
Courtesy of Philip Crawford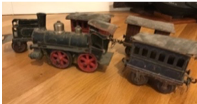 Charles Woodbury (1864-1940)
General Grant Toy Train Set
c. 1910
Metal and paint
Courtesy of Peter Woodbury
The General Grant toy train is a remake of a Civil War-era train known as The General. The train was powered by a 4-4-0 American steam locomotive which included an operating headlight, box cars, gondola car, and combine car. This model is likely a reference to the train which bore the remains of Ulysses S. Grant when the body was taken from a cottage at Mt. McGregor in Greenfield, New York to his final resting place at Riverside Park. Funeral trains today are often reserved for leaders, national heroes, or government officials, as part of a state funeral, but in the past were sometimes the chief means of transporting coffins and mourners to burial sites. The toy train is depicted in Marcia Oakes Woodbury's portrait of her son David on the reverse side of the recreated studio of Charles Woodbury.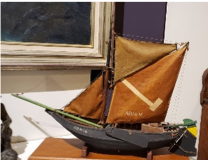 Charles Woodbury (1864-1940)
ARM 16
c. 1910
Carved wooden with canvas masts
Courtesy of Peter Woodbury
Woodbury constructed this model of a Dutch Hoogaar fishing vessel based on boats he saw during his travels throughout Holland between 1897 and the 1930s. The vessel bears a coat of arms, ARM 16, a reference to a Arnmuiden Hoogaars, a Dutch or Flemish design specifically constructed for shallow, tidal waters.
Unidentified Maker (Early 20th Century)
Brass Andirons (2)
c. 1910 17 x 9 in.
Courtesy of Peter Woodbury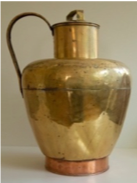 Unidentified Maker (Early 20th Century)
Dutch Milk Can
c. 1920
Molded yellow copper with red copper base
Courtesy of Chris and Judith Woodbury
Charles and Marcia Woodbury brought many articles of Dutch origin back from the Netherlands, including Delft tiles, decorative plates, china ware, wooden shoes, and ice skates as well as images of the countryside and its people. Among their collection of Dutch objects were copper milk cans, which they used as decorative accents. The milk cans appear to be made of brass but they are an alloy of copper and zinc known as "high brass" with 65 % copper and 35 % zinc, which makes the material workable for a metalsmith. Various sized cans were made to accommodate different needs but the design was invariably the same. The neck of the milk can is large, which makes it easier to pour from one can to another. The cans were principally used to transport milk to market, usually cheese-making operations. From farm to market, small wagons loaded with milk cans were drawn by dogs wearing harnesses. Young girls were put in charge of guiding the wagons to market while men did the heavy lifting at farm and factory. A fully loaded can could weigh as much as 40 pounds.
–Christopher Woodbury, grandson of Charles Woodbury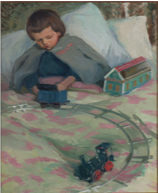 Marcia Oakes Woodbury (1865-1913)
Untitled (Portrait of David Woodbury with Toy Trains)
c. 1905
Oil on canvas
Courtesy of Peter Woodbury
In this interior domestic scene, Marcia Oakes Woodbury depicts her young son David recuperating from an illness while playing with his toy train set the General Grant. The train set, a family heirloom, is displayed on the mantle in this recreation of Woodbury's studio. Oakes Woodbury typically painted her sitter's portraits with their favorite belongings. She is best known for her studies of Dutch women and children.Born Susan Marcia Oakes, she graduated from Berwick Academy and took painting lessons from her future husband Charles Woodbury in his School Street studio in Boston. She married Woodbury in June 1890 and the couple went on extended honeymoon to Europe where they continued their art studies. Much of their married life was spent abroad. Oakes Woodbury developed a close friendship with writer Sarah Orne Jewett, also of Berwick, and completed illustrations with her husband for Jewett's books Deephaven and The Tory Lover.Marcia Oakes Woodbury died at the age of 49. A memorial exhibition of her work was held at the Museum of Fine Arts, Boston in April, 1914. Her work is in the collection of the Metropolitan Museum of Art and Museum of Fine Arts, Boston.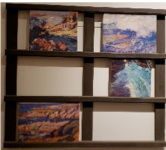 Charles Woodbury (1864-1940)
Pochade Rack with Facsimile Pochades
c. 1925
Wood and hardware
Courtesy of Christopher and Judith Woodbury
A pochade, from French poche, meaning pocket, is a preliminary oil sketch in preparation of a more finished painting. Pochades are typically made in small, portable sizes. Many artists used wood panels that could easily fit inside a coat pocket along with tubes of oil paint. The general idea in creating a pochade is to capture the colors and atmosphere of a scene rather than finite details.
Unidentified Maker (19th-century)
Serving spoon
c. 1900
Brass
Courtesy of Christopher and Judith Woodbury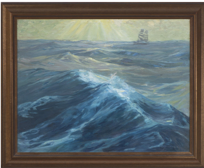 Charles Woodbury (1864-1940)
Untitled (Mid-ocean Scene)
c. 1890
Oil on canvas boat
Courtesy of Christopher and Judith Woodbury
20x 26
Although Woodbury believed that art was a subjective experience important for personal growth, he was disciplined and specific in his teaching. A masterful painter, draftsman, and printmaker, Woodbury studied the dynamics of ocean waves and provided precise instruction in calculating movement. Woodbury welcomed his first students to his Boston studio for lessons shortly after he had graduated from MIT with a degree in engineering. Unlike the glassy surfaces of luminist painters, Woodbury's canvases diagrammed the intensity of waves with prismatic blues, greens, and browns. His seascapes, including his mid-ocean views painted from the bow or stern of the ship, were not panoramic; instead he focused on specific details, using diagonal brush marks and fragmentary strokes to emulate sensations and frames of movement. Sailing vessels like the one pictured in the distance of this scene, and figures, were incidental to Woodbury's compositions.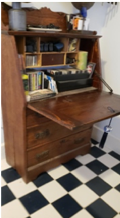 Unidentified Maker (Early 20th century)
Desk with Tabletop Extension
c. 1925
Wood and hardware
Courtesy of Sandra Mitchell
Charles Woodbury (1864-1940)
Untitled (Two Fishermen)
c. 1910
Bronze figurine
Courtesy of Christopher and Judith Woodbury
Charles Woodbury (1864-1940)
Sketch of Mose Lyman Staples
July 18, 1917
Lithography crayon on paper
Courtesy of Peter Woodbury
This lively sketch of Mose Staples, a local Perkins Cove fisherman, prompted Woodbury to carve a companion piece, the figurine perched on the mantle in his studio. A skilled wood carver and sculptor, Woodbury created ship models and model trains, in addition to figurines carved in wood, as well as pieces cast in bronze, or sculpted in clay.
---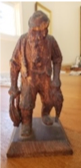 Charles Woodbury (1864-1940)
Mose Lyman Staples
c. 1917
Carved basswood
Courtesy of Peter Woodbury
Woodbury created this carved basswood figurine of Mose Lyman Staples, a local Perkins Cove Fisherman. The figurine was carved based on one of Woodbury's sketches dated July 18, 1917.
---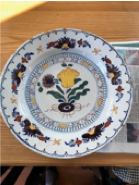 Unidentified Maker (Late 19th century)
Hand-painted Dutch Porcelain with Floral Motif
c. 1890
Porcelain plate with floral motif
12 in. diameter
Courtesy of Christopher and Judith Woodbury
---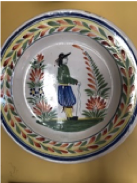 Unidentified Maker (Late 19th century)
Hand-painted Porcelain with Figure and Floral Motif
c. 1890 Porcelain plate with figure and floral motif
12 in. diameter
Courtesy of Christopher and Judith Woodbury
Unidentified Maker (Early 20th century)
Ladder back chair with rush
c. 1900
Wood and dried sea grass
Courtesy of Christopher and Judith Woodbury