April 10, 2020
by Ruth Greene-McNally, OMAA Curator and Collections Manager
No discussion about Charles Woodbury would be complete without a glimpse of his etchings. Woodbury's pursuit and mastery of the form prompted him in the discipline  of drawing. His proficiency in life drawing proved advantageous in conveying the motion of ocean waves in his seascapes and the movement of trees in landscapes.
Woodbury's earliest etchings were based on preliminary sketches and date to a series created in Holland and Nova Scotia, c. 1890. Between 1917 and 1918, Woodbury observed a daily schedule of sketching exercises. He carried 5×7 inch drawing cards on which he would record, generally with a lithography crayon, any action that caught his eye. By the hundreds, he sketched sleeping dogs, pigeons pecking, workers bearing heavy loads, bathers on the beach, and artists sketching other artists.
In 1944, the executors of Woodbury's estate, Mrs. Charles Bruen Perkins and Mr. and Mrs. David Woodbury, the artist's son and daughter-in-law, donated a complete set of prints, including a number of trial proofs and etching plates, drawings, watercolors, and oil paintings to the Boston Public Library. Included in the library's collection of works by Woodbury are 1,550 prints, 486 drawings, 86 watercolors, 51 oil paintings, and 38 copper plates.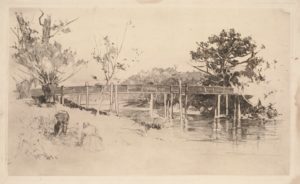 Charles Woodbury (1864-1940)
"Wooden Bridge"
1890
Etching ink on paper
8.5 x 14.5 in
Boston Public Library, Print Department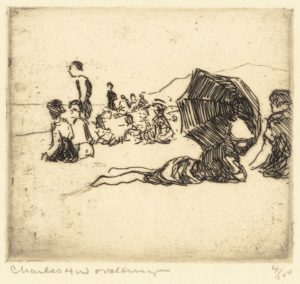 Charles Woodbury (1864-1940)
"Beach Umbrella"
1916
Etching ink on paper
3.5 x 4 in.
Boston Public Library, Print Department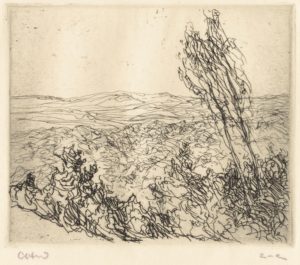 Charles Woodbury (1864-1940)
"Two Windblown Trees"
1916
Etching ink on paper
5 x 5.75 in
Boston Public Library, Print Department