April 20, 2020
by Ruth Greene-McNally, OMAA Curator and Collections Manager
Since it's Monday, let's start off small. You can see just how small these works of art are by comparison to other works within the salon style grouping in "The View from Narrow Cove."
Yasuo Kuniyoshi's "Man (Or Man Standing to the Right)" is a mere 3.5 x 2.5 inches. Modest in scale but large in importance if we consider the period in which the Allied Forces rallied during WWI. The figure appears to bear weight from within, as no doubt many servicemen, workers, and families did across the globe. Counterpoint to the subtitle, the figure leans left. In printmaking when the artist transfers a drawing to a zinc or copper plate, the printed version is a mirror image.
Horace Burdick's "The Peach" is scaled at 3.25 x 5 inches, larger still than an atypically large peach. During this phase in Burdick's career, he drew still lifes and portraits in crayon and later turned to oils when he came to Ogunquit with John Enneking. The markings on Burdick's ripe peach may easily be taken as continents surrounding the globe, a metaphor for the increasingly industrialized societies around the world. Burdick drew "The Peach" at the turn of the century, at the height of the The Progressive Era, a period of widespread social activism and political and economic reform.
Horace Robbins Burdick was born in East Killingly, Connecticut in 1844. Burdick went to Boston from Providence, Rhode Island in 1864 and finally settled in Malden, Massachusetts in 1886. Burdick began his art career in Providence in 1863, at the age of 19, where he was engaged in retouching and coloring photographs. Burdick attended the Union Hall School in Providence, The Lowell Institute in Boston, and the Museum School of Fine Arts, Boston.

In Boston to study and continue his art work, Burdick first did still-life paintings and then crayon portraits, finally turning to portraits in oil, for which he became famous. He also did a large number of landscapes in both oil and watercolor. The subjects range from New Hampshire's White Mountains to coastal scenes. He started restoring old pictures as an avocation and became an authority in the field.

Burdick's paintings hang in many public buildings and his articles on art have been printed in various art journals. As the oldest living member of the Boston Art Club, he was honored by the group when his portrait of then President Coolidge was placed on exhibition at the Club in 1927. As an active member of the Boston Art Club, Burdick was a contemporary of numerous artists. The Boston Art Club members mentioned in Burdick's private papers include: John Joseph Enneking, John R. Key, Alfred Ordway, Frank H. Shapleigh, William E. Norton, Scott Leighton, James Wells Champney, R. Swain Gifford, Jean Paul Selinger and William F. Halsall.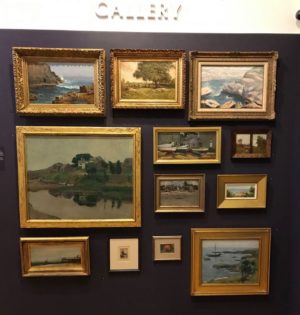 The View From Narrow Cove: Bicentennial Oqunquit is made possible through the generous support of Sparhawk Oceanfront Resort and The Maine Bicentennial Commission.