May 14, 2020
by Ruth Greene-McNally, OMAA Curator and Collections Manager
Romare Bearden is noted for his paintings and collages specific to the African American experience. His imagery frequently references the "great migration" of Black American citizens from the South to the North, themes that prompted Downtown Gallery director Edith Halpert to represent greater numbers of Black artists in a series of exhibitions in New York between 1930-1950.
Also regarded for his writing and songwriting, Bearden became acquainted with physician and poet, William Carlos Williams and his wife Florence at the Downtown Gallery where the couple purchased "Untitled (Figures") among other pieces for their collection. The Williams' and Halpert began summering in Ogunquit in 1926. An avid collector, Florence Williams donated several paintings from their collection to OMAA in 1966.
Williams once stated, "The painters have paid too much attention to the ism and not enough to the painting." He apparently championed Bearden's work as he himself focused on precise imagery. Williams wrote "Flowers by the Sea" c. 1928 while summering in Ogunquit.
Flowers by the Sea
BY WILLIAM CARLOS WILLIAMS
When over the flowery, sharp pasture's
edge, unseen, the salt ocean
lifts its form—chicory and daisies
tied, released, seem hardly flowers alone
but color and the movement—or the shape
perhaps—of restlessness, whereas
the sea is circled and sways
peacefully upon its plantlike stem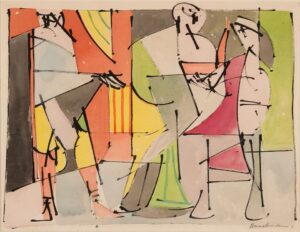 Romare Bearden (1911-1988)
Untitled (Figures)
c. 1935
Ink and watercolor on paper
19 x 25 in.; Frame: 32.5 x 37.5 in.
#1967.21, Gift of Mrs. William Carlos Williams
Primarily self-taught, Bearden's interest in Cubism, Futurism, and Surrealism as well as music and poetry prompted him to experiment with collage. He was influenced by Stuart Davis who taught Beardon how to visualize the relationship between painting and jazz.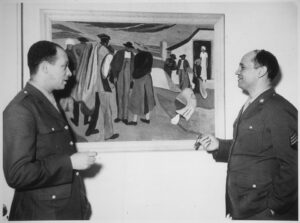 Bearden (right) discussing one of his paintings, Cotton Workers, with Pvt. Charles H. Alston, his first art teacher and cousin, in 1944. Both Bearden and Alston were members of the 372nd Infantry Regiment stationed in New York City.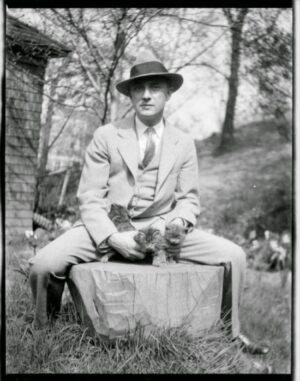 William Carlos Williams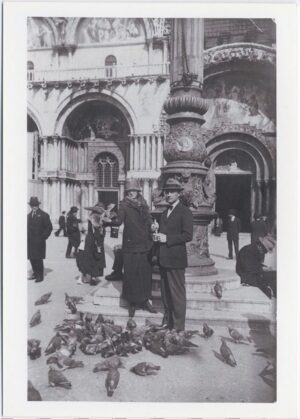 Florence Williams and Willam Carlos Williams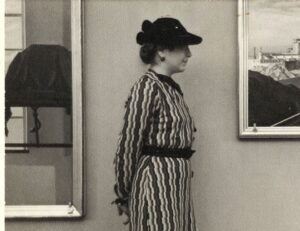 Edith Halpert, Director of the Downtown Gallery in NYC.