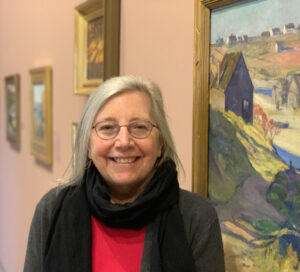 Late 19th-century critics celebrated Winslow Homer's paintings of the Maine coast as big, powerful, and virile—masculine qualities that would describe representations of this locale well into the 20th century. The Maine coast thus was mapped as a manly domain, brought into view by vigorous brushwork and inhabited by rugged artists colonizing a new frontier. What was the place of female artists of the Ogunquit art colony in this context? How did gender operate in this space and how has it in historical narratives of Maine art? And what about modernist female artists who pictured the Maine shoreline at this same time—Marguerite Zorach and Georgia O'Keeffe, for example? In this lecture I want to propose preliminary answers to these questions as I think about these women by the sea in light of questions posed by feminist art history.
Donna Cassidy teaches courses on American art, nineteenth- and early twentieth-century European art, as well as gender and the visual arts at the University of Southern Maine. For nearly thirty years, she also taught in USM's American & New England Studies Program. Her articles on early twentieth-century American art have appeared in American Art, Winterthur Portfolio, and numerous anthologies and exhibition catalogues. She is the author of Painting the Musical City: Jazz and Cultural Identity in American Art, 1910-1940 (1997) and Marsden Hartley: Race, Region, and Nation (2005), and co-author (with Elizabeth Finch and Randall R. Griffey) of Marsden Hartley's Maine (2017), the catalogue of the exhibition of the same name which she co-curated at the Metropolitan Museum of Art and Colby College Museum of Art. Her current research project investigates an aspect of modernism and transnationalism: Looking North: U.S. Artists in Quebec and Atlantic Canada 1890-1940.
Related exhibition: Remember the Ladies: Women Painters in Ogunquit, 1900-1950.
GENEROUSLY SPONSORED BY: Carole Aaron