By Jill Burke
OMAA Education & Outreach at Waban & TACP
I recently completed a series of community workshops & collaborative art shows at Waban Lifeworks in Springvale and The Creative Trails, The Art Certificate Program (TACP) in Biddeford.  As OMAA's Education Coordinator I have the privilege of working with some amazing young adults with developmental uniqueness and the community organizations that serve them.
Over the course of a ten-week workshop series I was able to share stories about the lives and works of artists Dahlov Ipcar, Beverly Hallam, John Marin, Will Barnet, Marsden Hartley, and Henry Strater to name a few.  We looked at their work, discussed their interests, passions, and lives, all while making connections to the participants' own lives.  We then took elements of art and design and applied them to their own artwork.  Relating to what they learned, they were able to make some truly amazing artwork!  It was so nice to see participants light up and get excited to work together, asking each time I walked into the room, "What are we doing today?"  Lianne Lewin, Program Manager at TACP said her artists could not wait for OMAA workshop days!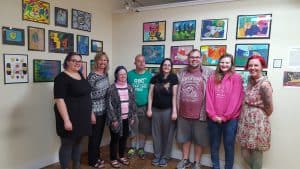 The opportunity for this engagement brightened some of the dark snowy days from January through April, in the months leading up to opening day at OMAA on May 1.  Participants enjoyed being involved in all aspects of hanging a show, from reviewing their portfolio to making a checklist of works to hang in their show.  They also were involved in creating an invitation, preparing refreshments, and hosting an opening.  The look of joy and pride on their faces when friends and family came to their art openings was priceless.
The show at TACP remains on exhibit through this Friday, May 26 during Biddeford's Artwalk from 5:00 – 8:00 p.m. at the North Dam Mill, Building #17, suite 215 Maine Street, Biddeford, ME.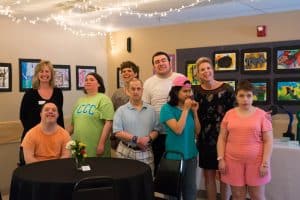 For more information about OMAA education and outreach programs or to support this program, contact Jill at jburke@ogunquitmuseum.org.