1760 -1840
The Industrial Revolution brings women in the workforce. The need for an understanding of principles of design leads to apprenticeships and training programs for working-class artisans. Women and children are paid half what men earn.
1776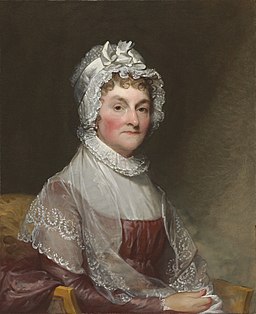 In a letter, Abigail Adams prompts her husband, John Adams, Representative to the 2nd Continental Congress, to "remember the ladies" when drafting the Articles of Declaration or face a rebellion by women. John Adams responds two weeks later, "Depend on it, we know better than to repeal our masculine systems."
1792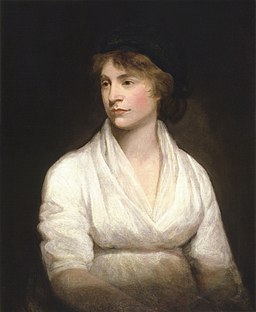 British feminist Mary Wollstonecraft writes A Vindication of the Rights of Women. Wollstonecraft becomes known as the "mother of feminism." Abigail Adams becomes a follower of her work.
1837
Both male and female students are admitted to state-supported classes to study drawing and design at several locations at England's "School of Design."
1840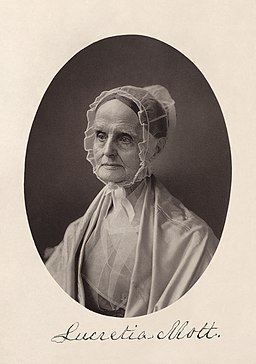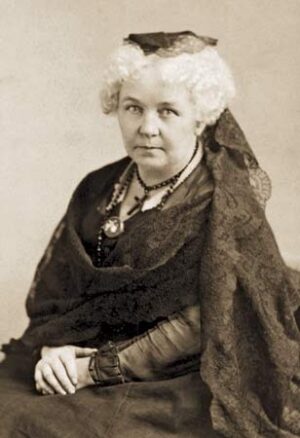 Lucretia Mott and Elizabeth Cady Stanton are barred from attending the World Anti-Slavery Convention held in London. This prompts them to hold a Women's Convention in the US. 
1843
The "Female School of Design" is established because men were distracted by female students and class size grew exponentially as women sought education and jobs. In 1862, the school becomes known as the Royal Female School of Art. The school holds to the idea that a proper art education for women should be limited to design so that women could earn their living though applied arts. 
1844
The Pennsylvania Academy of Fine Arts, opened in 1804, grants women the "exclusive use of the statue gallery for professional purposes" and study time in the museum on Monday, Wednesday, and Friday mornings. By 1860, female students are allowed to take anatomy and antique courses, by drawing from antique casts. Life classes become available to women in 1860. Catherine Drinker, at the age of 27, is appointed as the first female faculty member in 1867. 
1847
Women who desired to become professional artists and not artisans for industry seek training at private schools. In Britain, James Matthew Leigh's General Practical School of Art admits women on equal terms with men and offers anatomy classes for ladies. 
1847
The Society for British Artists offers classes in figure study for women, where the model is classically draped. 
1848
Seneca Falls, New York becomes the site for the first Women's Rights Convention. Elizabeth Cady Stanton presents "The Declaration of Sentiments, which became the agenda of women's activism for decades to come.  
The Philadelphia School of Design for Women is established by Emily Sartain. Conceived as a trade school in the teaching of lithography, wood carving, and design, it becomes the largest art school for women in the United States. Faculty included Robert Henri, Samuel Murray, and Daniel Garber. In 1932, the school merged into what is now the Moore College of Art and Design.    
Elizabeth Blackwell becomes the first women to graduate from medical school and becomes a doctor in the United States. Blackwell graduates with the highest grades in her class at Geneva College. 
1850
The National Women's Rights Convention is held at Worchester, Massachusetts. Frederick Douglas, Paulina Wright Davis, Abby Kelley Foster, William Lloyd Garrison, Lucy Stone, and Sojourner Truth attend. An alliance with the Abolitionist Movement is formed.  
Although The Royal Academy Schools does not specifically prohibit women, none apply and custom becomes law.  
1851
The Second National Women's Rights Convention is held in Worchester and attended by Horace Mann, NY Tribune columnist Elizabeth Oaks Smith, and Rev. Harry War Beecher. At a women's rights convention in Akron, Ohio, Sojourner Truth delivers her speech, "Ain't I a Woman."
1852
The issue of women's property rights is presented to the Vermont Senate by Clara Howard Nichols. 
1866
Elizabeth Cady Stanton and Susan B. Anthony form the American Equal Rights Association, an organization dedicated to the goal of suffrage for all regardless of gender or race. 
1868
Elizabeth Cady Stanton, Susan B. Anthony, and Parker Pillsbury publish the first edition of The Revolution. The periodical carries the motto "Men, their rights and nothing more; women, their rights and nothing less!" 
 
Caroline Seymour Severance establishes the New England Woman's Club. The "Mother of Clubs" sparks the club movement which becomes popular by the late nineteenth century.  
 
In Vineland, New Jersey, 172 women cast ballots in a separate box during the presidential election.  
 
Senator S.C. Pomeroy of Kansas introduces the federal woman's suffrage amendment in Congress.   
 
Many early suffrage supporters, including Susan B. Anthony, remain single because in the mid-1800s, married women could not own property in their own names and could not make legal contracts on their own behalf.  
 
The Fourteenth Amendment is ratified. "Citizens" and "voters" are defined exclusively as male. 
1869
Elizabeth Cady Stanton and Susan B. Anthony found the National Woman Suffrage Association (NWSA), a more radical institution, to achieve the vote through a Constitutional amendment as well as push for other woman's rights issues. NWSA is based in New York. 
 
Lucy Stone, Henry Blackwell, Julia Ward Howe and other more conservative activists form the American Woman Suffrage Association (AWSA) to work for women's suffrage through amending individual state constitutions. AWSA was based in Boston.  
 
Wyoming territory is organized with a women's suffrage provision.
1870
The Massachusetts legislature passes an act authorizing the teaching of drawing in public schools. The Massachusetts Drawing Act makes provisions for free drawing classes for women, men, and children mandatory in all communities with populations over 10,000. The Act makes it mandatory for state schools to incorporate art as one of the required subjects taught. 
The first statewide program for industrial drawing is taught in both public schools and evening adult classes. Walter Smith who becomes the first director of the new State Normal School becomes the supervisor of drawing, bringing with him a background in industrial drawing.  
Art Museums for America by George Fisk Comfort is published, describing his vision for art museums and their educational function.  
The Boston Museum of Fine Arts is chartered; New York's Metropolitan Museum of Art is chartered; and the Corcoran Gallery of Art is incorporated.  
The 15th Amendment is ratified forbidding denial of right to vote based on race or previous servitude but women remained disenfranchised.  
1871
The Indian Appropriation Act passed by Congress makes Indigenous Peoples wards of the federal government. 
1872
Art Education, Scholastic and Industrial by Walter Smith is published by JR Osgood and Co., Boston. The book will become a reference for many groups and institutions that want to develop art education programs.   
In Rochester, New York, Susan B. Anthony and other women's rights advocates are arrested for trying to vote on Nov 5th in the presidential election.  
1873
The Massachusetts Normal Art School is established to prepare art teachers. Today, the school continues as Massachusetts College of Art. 
United States Bureau of Education conducts a survey "in order to ascertain what opportunities are afforded for art-training and what public art collections are at present existing in this country." 
Syracuse University, founded in 1870, establishes a College of Fine Arts with George Fisk Comfort as Dean. This is the second US college, after Yale, to grant degrees in fine arts.  
1874
Vassar College requires all first-semester seniors to study the history of art. 
1875
Syracuse Social Art Club is founded by Mary Dana Hicks who serves as first president of this women's club devoted to the art education of its members.  
The Art Students' League of New York is established by Lemuel Wilmarth. Unlike the National Academy of Design, where artists had to be elected, the League offered membership to any candidate with "acceptable moral character and the means to pay his/her dues." 
Wellesley College is founded and includes fine art in the curriculum. 
1876
Sarah M. Loguen graduates from Syracuse University, and goes on to become the fourth African-American woman physician in the United States, and the first woman licensed to practice medicine in the Dominican Republic. 
Mount Holyoke College opens a college art gallery. 
The University of the Arts in Philadelphia is founded. Many institutions emerge as a result of the nation's Centennial Exposition. The institution is among the first to contribute to the formation of an American tradition in arts education. 
1877
Smith College offers lectures on history and principles of fine arts to all students. 
Girls Latin School —distinct from the first public school in America, Boston Latin School opened in 1635 —is founded for female students.  
1887
The first vote on woman suffrage is taken in the Senate and is defeated.
1888
The National Council of Women in the United States is established to promote the advancement of women in society.
1890
NWSA and AWSA merge and the National American Woman Suffrage Association is formed. Stanton is the first president. The Movement focuses efforts on securing suffrage at the state level.  
 
The American Federation of Labor declares support for women's suffrage. 
1890-1925
During the first decades of the Progressive Era, women from all classes and backgrounds enter public life. As women's roles expand, women find themselves increasing politicized. Consequently, the issue of woman suffrage becomes part of mainstream politics.
1892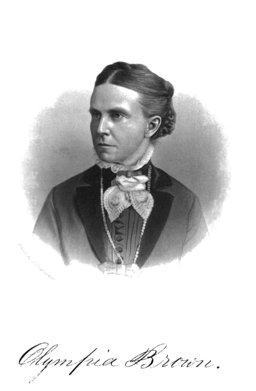 Olympia Brown founds the Federal Suffrage Association to campaign for woman's suffrage. 
1893
Colorado adopts woman suffrage.
1894
600,000 signatures are presented to the New York State Constitutional Convention in a failed effort to bring a woman suffrage amendment to the voters.
1895
Elizabeth Cady Stanton publishes The Woman's Bible. After its publication, NWSA moves to distance itself from Stanton because many conservative suffragists considered her to be too radical thus, potentially damaging to the suffrage campaign.
1896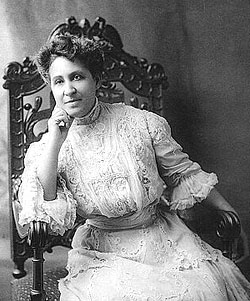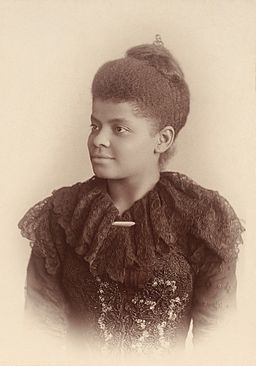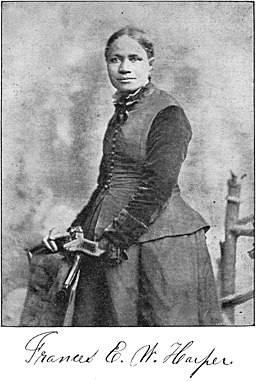 Mary Church Terrell, Ida B. Wells-Barnett, and Frances E.W. Harper among others found the National Association of Colored Women's Clubs.
Utah joins the Union with full suffrage for women. 
1898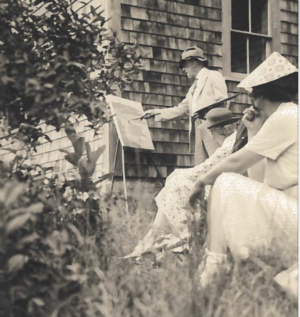 Charles Woodbury opens his Summer School of Painting and Drawing in Ogunquit. He welcomes both male and female professional artists and students of all levels.  
 
Idaho adopts woman suffrage.  
1903
Following admission to the University of the Arts in Philadelphia, discriminatory practices exclude women from receiving the same instruction as men. When female students protest exclusion for study of the nude model, a special life drawing class is established for women and women can take other courses with male students.
1903
Hamilton Easter Field opens his Summer School of Graphic Arts in Ogunquit. Field actively supports women's suffrage and welcomes women to his course of study.  
Mary Dreier, Rheta Childe Dorr, Leonora O'Reilly, and others form the Women's Trade Union League of New York, an organization of middle and working-class women dedicated to unionization for working women. 
1910
Washington State adopts woman suffrage.  
 
The Women's Political Union organizes the first suffrage parade in New York City.
1911
The elaborate California suffrage campaign succeeds by a small margin. 
1912
Woman Suffrage is supported for the first time at the national level by a major political party –Theodore Roosevelt's Bull Moose Party. 
Twenty thousand suffrage supporters join a New York City suffrage parade. 
Oregon, Kansas, and Arizona adopt woman suffrage. 
1913
Suffragists organize a parade down Pennsylvania Avenue in Washington, DC. The parade is the first major suffrage spectacle organized by the National American Woman Suffrage Association (NAWSA).
1914
Nevada and Montana adopt woman suffrage.  
 
The National Federation of Women's Clubs, which had over two million women members throughout the U.S., formally endorses the suffrage campaign.
1915
Mabel Vernon and Sara Bard Field are involved in a transcontinental tour which gathers over a half-million signatures on petitions to Congress.  
 
Forty thousand march in a NYC suffrage parade. Many women are dressed in white and carry placards with the names of the states they represent.  
 
Pennsylvania, New Jersey, New York, and Massachusetts continue to reject woman suffrage.
1916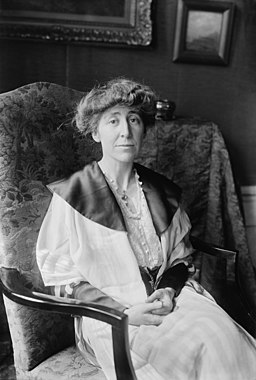 Jeannette Rankin of Montana is the first woman elected to the House of Representatives. Woodrow Wilson states that the Democratic Party platform will support suffrage.
1917
New York women gain suffrage.  
 
Arkansas women are allowed to vote in primary elections.  
 
National Woman's Party picketers appear in front of the White House holding two banners, "Mr. President, What Will You Do For Woman Suffrage?" and "How Long Must Women Wait for Liberty?"   
 
Jeannette Rankin of Montana, the first woman elected to Congress, is formally seated in the US House of Representatives.  
 
Alice Paul, leader of the National Woman's Party, was put in solitary confinement in the mental ward of the prison as a way to "break" her will and to undermine her credibility with the public.  
 
In June, arrests of the National Woman's party picketers begin on charges of obstructing sidewalk traffic. Subsequent picketers are sentenced to up to six months in jail. In November, the government unconditionally releases the picketers in response to public outcry and an inability to stop National Woman's Party picketers' hunger strike.
1918
Representative Rankin opens debate on a suffrage amendment in the House. The amendment passes. The amendment fails to win the required two thirds majority in the Senate.  
 
Michigan, South Dakota, and Oklahoma adopt woman suffrage.  
 
President Woodrow Wilson states his support for a federal woman suffrage amendment.  
 
President Wilson addresses the Senate about adopting woman suffrage at the end of World War I. 
1919
The Senate finally passes the Nineteenth Amendment and the ratification process begins.
August 26th, 1920
Three quarters of the state legislatures ratify the Nineteenth Amendment, granting American women full voting rights.  
1955
Black seamstress Rosa Parks refuses to give up her seat to a white man on a bus in Montgomery, Alabama. The move helps launch the civil rights movement. 
1960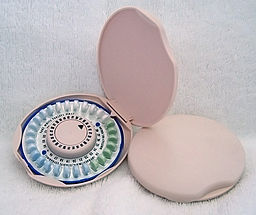 The FDA approves the first commercially produced birth control pill in the world. Margaret Sanger initially commissioned "the pill" with funding from heiress Katherine McCormick.
1963
President John F. Kennedy signs into law the Equal Pay Act, prohibiting sex-based wage discrimination between men and women performing the same job in the same workplace.
1964
President Lydon B. Johnson signs the Civil Rights Act into law; Title VII bans employment discrimination based on race, religion, national origin, or sex.
1966
Betty Friedan, author of The Feminine Mystique (1963), helps found the Nation Organization for Women, using grassroots activism to promote feminist ideals, lead social change, eliminate discrimination, and achieve and protect equal rights for women and girls in all aspects of social, political, and economic life.  
1972
Boston Latin School, the first public school in the United States, becomes co-educational after a 337 year history of educating Boston's elite male population.  
Title IX is signed into law by President Richard Nixon. The amendment states, "No person in the US shall, on the basis of sex, be excluded from participation in, be denied the benefits of, or be subjected to discrimination under any education program or activity receiving federal financial assistance."  
1973
In a landmark 7-2 Roe v. Wade decision, the US Supreme Court declares that the Constitution protects a woman's legal right to an abortion.  
1981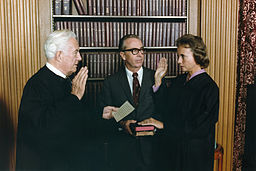 Sandra Day O'Connor is sworn in as the first woman to serve on the US Supreme Court. 
1983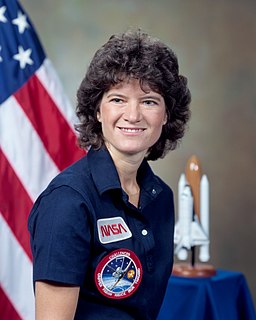 Flying on the Space Shuttle Challenger, Sally Ride become the first woman in space. 
1984
Walter Mondale names US Rep Geraldine Ferraro as his running mate, making her the woman vice presidential nominee by a major political party.  
1993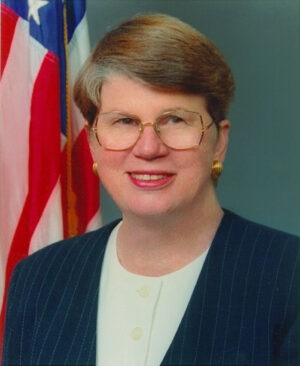 Janet Reno is sworn in as the first female attorney general of the US.
1994
The Violence Against Women Act is signed into law to fund programs that help victims of domestic violence, rape, sexual assault, and stalking. 
1997
Madeleine Albright is sworn in as the nation's first female Secretary of State.
2007
US Rep Nancy Pelosi becomes the first female speaker of the House. In 2019, she regains the title, becoming the first lawmaker to hold the office two times in more than 50 years. 
2013
The US military removes a ban against women serving in combat positions.
2016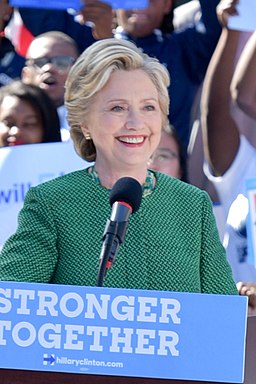 Hillary Clinton becomes the first woman to receive a presidential nomination from a major political party.
2021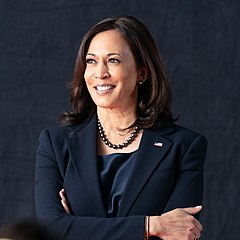 Kamala Harris is sworn in as the first woman and first person of color Vice President of the US.