Celeste Roberge
Chaise Gabion and Chair for Mining, Chromium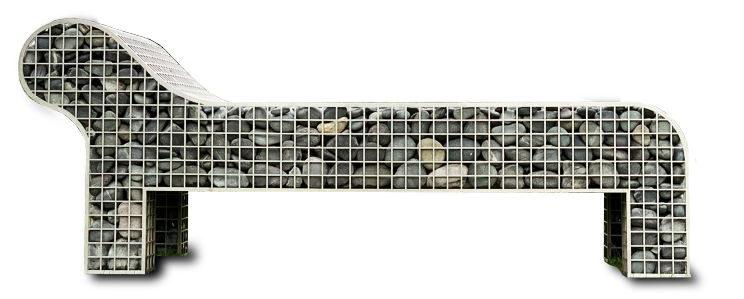 Chaise Gabion
Celeste Roberge's waterjet cut, stainless steel chaise juxtaposes historical reference, design, and materiality. Chaise Gabion is a modernist sculpture and a piece of furniture. Conventionally, a gabion is a wirework container filled with rock and used in the constriction of dams. Sited in the museum's sculpture park and filled with 1,350 pounds of rock from the beachfront at Narrow Cove, Chaise Gabion transforms natural materials into a poetic, post-modern object. Chaise Gabion is #5 in a series of 10 benches made by the artist.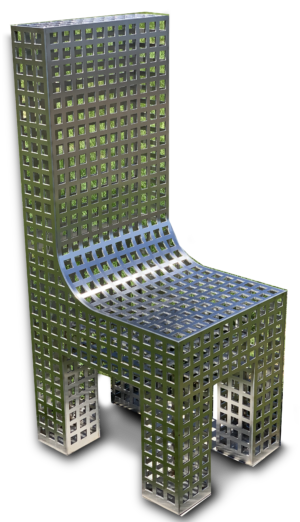 Chair for Mining Chromium
Made of brushed stainless steel, Chair for Mining Chromium is a commonplace object with a complex story. Simultaneously productive and destructive, the act of mining involves the extraction of valuable minerals from the earth as it simultaneously leaves behind harmful residues and unpredictable outcomes. The social and economic functions of mining, as well as the geological and geographical origins of metals, span human history and the globe. As a functional object, a chair is an aid to work or rest, an architectural and technological object. In academia, a chair denotes a position of distinction. The "chair" is both a leadership role and office held. Sited on ledge overlooking the water's edge at Narrow Cove, Chair for Mining Chromium presents a unique opportunity to ponder the geological and global histories associated with the view.
*Gallery Images show (3) chairs; OMAA will show Chair for Mining Chromium only.