Barn Gallery Associates Wing  
May 1-October 31, 2017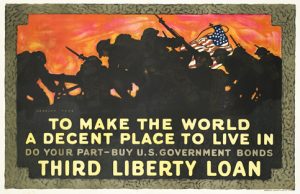 2017 marks the centenary of the United States' involvement in the First World War. The conflict would come to affect every citizen and region with a reach that was unprecedented in human history. Artists living and working in the Ogunquit colonies felt the conflict as deeply and responded in a variety of ways through their work. Traditions and Excellence: Art and Ogunquit, 1914 – 1918 features a selection of war posters and artworks drawn from OMAA's permanent collection made during the course of the Great War and identifies the anxieties, resistance, helplessness and hopefulness of the time.  The installation features works by Yasuo Kuniyoshi, Rudolph Dirks, Hamilton Easter Field, Childe Hassam, Marsden Hartley, Robert Laurent, Charles Woodbury and William Zorach, among others. The exhibition is organized by the Ogunquit Museum of American Art and will be on view throughout the Museum's 64th Exhibition Season.
This exhibition is made possible by Cyrus & Patty Hagge.
Image:
Herbert Paus (1880-1946)
To Make the World A Decent Place To Live In/ Do Your Part—
Buy U.S. Government Bonds/Third Liberty Loan
1918
Lithograph on paper
30 x 20 in.
OMAA Permanent Collection #1991.8
Gift of H. Dudley Wright, 1991