OMAA continues its exploration of the union between arts and letters with a third series of programs by notable authors and artists. The program occurs on two Sundays during the 2020 season.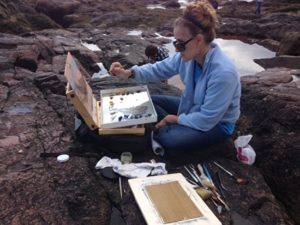 Kathleen Speranza earned a Master of Fine Arts degree from Yale University School of Art.  She has had an academic career of more than thirty years teaching painting and drawing at the college level.  She has been on the Faculty of the Rhode Island School of Design for the last several years. Ms. Speranza now leads painting workshops both nationally and Internationally.
Her paintings have always explored the visual language of space, light, color and form as it relates to specific subjects from nature.  The most recent paintings are an ongoing investigation of the poetic potential of botanical life. The body of work relating to Garden Roses with their extreme subtlety of color and structure are perhaps her best known images.
Kathleen has exhibited work in group and solo shows throughout the US and U.K.  Her work can be found in numerous private and public collections.  The 2020 exhibition, "Vanitas Vita" at the Ogunquit Museum of American Art will be on view in conjunction with the artist demonstration.
Arts & Letters by the Sea program is generously supported by Ann Ramsay-Jenkins.