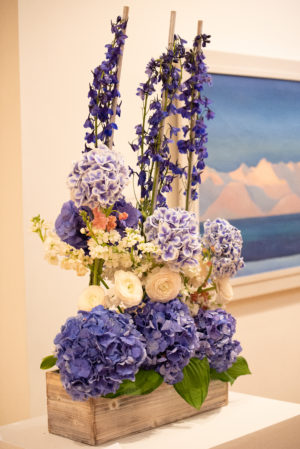 A treat for the senses–color, texture, fragrance fill the galleries for one-weekend in June for "Art in Bloom." Area Garden Club designers creatively utilize flowers, seed pods, driftwood and other organic matter to interpret nearly 20 works of art on exhibition. Visitors have the opportunity to cast their vote for "Best in Show". Sculpture Garden tours, lecture by renowned Horticulturist John Forti and reception in celebration of the conclusion of the event on Sunday.
Sunday Events Schedule:
11 am: Sculpture Garden Tour
12:30 pm: Sculpture Garden Tour
2 pm: Lecture by John Forti, Executive Director of Bedrock Gardens in Lee, NH
3 pm: Reception
4 pm: Best in Show Award announcement
About John Forti:
A nationally recognized garden historian, ethnobotanist and heirloom specialist, John Forti expounds time-honored yet underused garden remedies, and horticultural practices. He encourages audience members apply tried and true methods to their modern lifestyles. John shares a unique sense of place and historical world-view, as well as, a view to a more sustainable future.
This event is free with museum general admission. Members are always free.