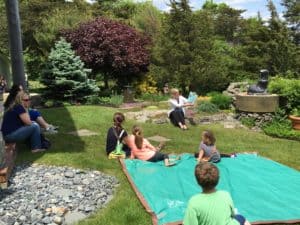 JULY AND AUGUST STORIES AND ACTIVITIES
July 12, 10:00 – 11:00 am – Watercolor
Little Pig Saves the Ship by David Hyde Costello:  Little Pig is too young to go to sailing camp with his brothers and sisters.  Left out of their adventure, Little Pig practices his sailor knots to fill the lonely hours.  But when Little Pig and Poppy build a toy ship and bring it to a nearby stream, they find plenty of adventure.  When the ship is blown off course, Little Pig's new knot-tying skills just might save the day!
After drawing inspiration from David's story book, OMAA's Education Coordinator Jill Burke will guide your children in a creative exploration of knot tying and boat making. Bring your imagination!
July 19,10:00 – 11:00 am * Guest author reading & book signing
The Pride of Perkins Cove by Brenda Yorke Goodale, art by Bunny Poulson
Jack visits Perkins Cove every year on his birthday to see his grandmother and listen to her tell the tale of the old fisherman and his lost carved boat.  The boat holds the key that can save the bridge in Perkins Cove from the huge chunks of ice that threaten to destroy it each year.  So every year Jack searches the cove for the lost little boat.  Will this be the year that he finds it and helps the people of Perkins Cove?  Bring your little ones, ages four to eight, to hear Brenda Yorke read her story, then participate in a hands-on art project using oil pastels.
July 26, 10:00 – 11:00 am – Watercolor
Ogunquit, etc., by M. Eimon:  Ogunquit resident and artist Marilyn Eimon recently published a book featuring examples of her many watercolor paintings of Ogunquit and other southern Maine scenes. Eimon has been painting for many years in locations around her home in Ogunquit with her Tuesday plein-air painting group, the Mainely Painters.  Join OMAA Education Coordinator Jill Burke in an exploration of M. Eimon's images and book, then participate in plein-air painting in the Ogunquit Museum of American Art gardens.
August 2, 10:00 – 11:00 am – Splatter Paint
Burt Dow Deep – Water Man by Robert McCloskey  A Tale of the Sea in the Classic Tradition.  Robert McCloskey (1914 – 2003) wrote and illustrated some of the most honored and enduring children's books ever published, including Blueberries for Sal, One Morning in Maine, and Homer Price. He was the first artist to win the Caldecott Medal twice, for Make Way for Ducklings in 1942 and Time of Wonder in 1958.
Burt Dow Deep – Water Man is perfect inspiration for an ocean scene painting complete with splatter painting.  Wear play clothes!
August 9,10:00 – 11:00 am – Letter Hunt
ABC Gulls by Beth Rand.  Beth Rand is a self-taught illustrator who has published her own line of greeting cards and a poster calendar featuring Maine imagery.  ABC Bulls is her first children's picture book.
After reading ABC Gulls together, OMAA's Education Coordinator Jill Burke will guide your children on an exploration of the gardens to discover as many letter shapes and words as possible to make their own ABC book.
August 16, 10:00 – 11:00 am – Mixed Media
The Little Fisherman, A Fish Story by Margaret Wise Brown.  Illustrated by Dahlov Ipcar:  "The Little Fisherman brought together two exceptionally talented women – Dahlov Ipcar and Margaret Wise Brown – who would emerge in postwar America as artistic and literary giants.  This delightful and charming book now stands as a milestone in children's literature that has been cherished by generations past, and will be by generations to come."
Using high contrast, bold black drawings with bold complementary colors the children will create their own art and stories of contrast and big vs. little.
August 23, 10:00 – 11:00 am – Drawing
Young Artists Draw Animals, by Christopher Hart.  Animals are fun to draw, but they can be challenging subjects.  This book makes it both fun and easy to draw all sorts of creatures.  After reading and practicing drawing methods in this child friendly book, OMAA Education Coordinator will help kids draw animals in the sculpture garden.