April 9, 2020
by Ruth Greene-McNally, OMAA Curator and Collections Manager
This sneak peek is somewhat like seeing the bride before the wedding, but we can't resist showing you a few process pictures of "Charles Woodbury: Open Studio" before we open.
Many months of behind-the-scenes work — planning, research, writing, label printing, and fabrication — come into play before an exhibition is ready to welcome visitors. The process involves the efforts of many staff members and vendors. (Caffeine and chocolate are also involved, though not in the galleries.)
Pictured is one of the installation's major lenders, Peter Woodbury, grandson of Charles Woodbury, along with USM Professor of History and Director of the Osher Map Library, Libby Bischof who served as consultant. Peter and Libby are reviewing the family's "Black Book," a compilation of articles, photographs, drawings, and class rosters. Behind our collaborators, you can glimpse two moveable gallery walls that served as the building framework for the re-created studio. Also pictured are installation shots as the studio takes shape. Woodbury's easel, on loan from a private lender, a framework for the fireplace, and desk are set in place to block the setting. A third process picture shows the space readied for staining. The arrangement of paintings, drawings, etchings, and personal artifacts from various lenders will be installed in the weeks ahead. Around the back of the studio, you will be able to view a display of paintings by Woodbury's students. Stay tuned! We look forward to your visit!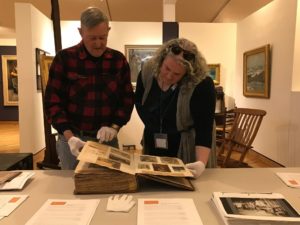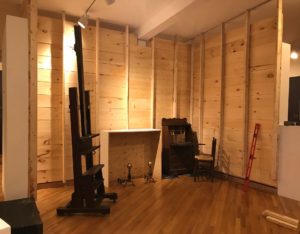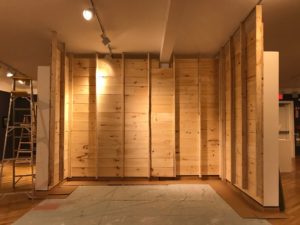 This exhibition is organized by the Ogunquit Museum of American Art  and Guest Curator Professor Libby  Bischof from the University of Southern Maine.

Exhibition is made possible through the generous support of:
The Woodbury Family
Sparhawk Oceanfront Resort
Elizabeth Cutler & Joanna Manikas
Maine Bicentennial Commission