OGUNQUIT, MAINE, May 2, 2017 –The Ogunquit Museum of American Art (OMAA) is pleased to present a full-season exhibition, Ernest Hemingway and Henry Strater, in the gallery of OMAA founder Henry Strater. In conjunction with this view into the friendship of two "Lost Generation" Americans living in Europe after World War I, OMAA invites visitors to participate in a living installation in which guests may donate a new or used book by or about American writers and artists of the Lost Generation era.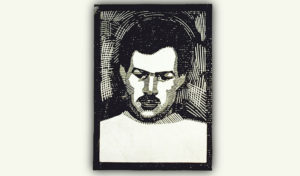 For this show, the Strater Gallery has been reimagined as an early 20th century reading room in which visitors may leave a favorite volume in the bookshelves and watch as the "collection" develops over the May 1 – October 31 season. Read, browse, join in the discourse, take a docent-led tour, and visit the related WWI-era exhibition, Tradition and Excellence: Art and Ogunquit, 1914 – 1918, in the adjacent Barn Gallery Associates Wing. Book donors will receive a commemorative bookmark depicting Henry Strater's portrait of Ernest Hemingway from a rare, first edition volume of the author's 1924 masterpiece, "in our time," which is on loan to the Museum from Bromer Bookseller's, Boston.
"Strater and Hemingway met in Paris in the midst of a rising Modernist movement that influenced generations of artists and writers," said Ruth Greene-McNally, OMAA Collections Manager and organizer of this exhibition. "Their artistic collaboration revolved around a fervor for beauty, sport, and social activism. The materials in this installation trace a tumultuous relationship between two creative figures and chart the possibilities and limits of art and humanity in our time."
Following the exhibition, book donations will be contributed to OMAA's 2018 Art, Books, and Collectibles Sale to benefit the Museum's education programs.
The Ogunquit Museum of American Art (OMAA) was founded by Lost Generation artist Henry Strater and opened in 1953. Closely connected to two of America's earliest art colonies that directly contributed to the roots of American modernism, OMAA today houses a permanent collection of important paintings, sculpture, drawings, prints and photographs from the late 1800s to the present and is the only museum in Maine devoted exclusively to the exhibition, preservation, and interpretation of American art. A short walk from Perkins Cove, the museum and its three acres of sculpture gardens overlook Narrow Cove and the Atlantic Ocean. OMAA is open May 1 through October 31, daily 10 a.m. to 5 p.m. For more information, visit www.ogunquitmuseum.org.
####
Press Contact
Alison Gibbs, OMAA Marketing & External Relations Director
agibbs@nullogunquitmuseum.org
(207) 646-4909
Lost Generation Writers                                             
Ernest Hemingway                   
Gertrude Stein
Ezra Pound
F. Scott Fitzgerald
T. S. Eliot
Sylvia Beach
Archibald MacLeish
E.E. Cummings
Hart Crane
Sherwood Anderson
John Steinbeck
William Faulkner
Henry Miller
James Joyce
John Dos Passos
Djuna Barnes
Glenway Westcott
Erique Maria Remaque
Aldous Huxley
JRR Tolkien
Alice B. Toklas
Hilda Doolittle
Lost Generation Artists
Marsden Hartley
Arthur Dove
Rockwell Kent
Alfred Maurer
Joseph Stella
Charles Philip Kuntz
Georgia O'Keefe
Alfred Steiglitz
Reginald Marsh
Berenice Abbott
Lousie Nevelson
Peggy Bacon
Raphael Soyer
Moses Soyer
Dorothea Lange
Yasuo Kuniyoshi
Marguerite Zorach
William Zorach
Charles Demuth
Milton Avery
Edward Hopper
George Bellows
Waldo Peirce
Stuart Davis