By Jill Burke
February, a typically grey monochromatic month in New England, was brightened for me by my weekly OMAA Art Education Outreach visits.  I love working with the art groups at Waban Lifeworks in Sanford and The Art Certificate Program in Biddeford because the students are so happy to be there and appreciative of the opportunity to learn something new about a particular artist or medium.  Drawing inspiration from the winter season, we delved into lessons about value and grey scale, limiting palette, and controlling mood through color choices. The student groups were inspired by Mount Katahdin, Winter, 1940, oil by Marsden Hartley and Alaskan Sunrise, 1919, oil on canvas by Rockwell Kent. Both are works in the permanent collection at the OMAA.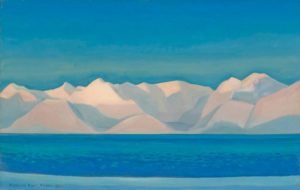 For our hands-on projects, we worked in chalk pastel on black and colored stock to recreate the beautiful scene of Mount Katahdin and reflect the cool winter mood.  Then we worked with acrylic paint, limiting our palette and using values of only blue, black, and white to create interpretations of Rockwell Kent's Alaskan Sunrise.
I was really pleased to see students attempt their own interpretations of these winter landscapes. To see the look of achievement on their faces was the highlight of my day!