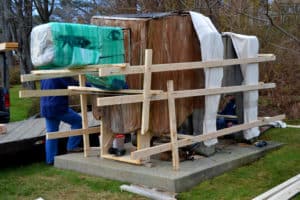 Part of the Ogunquit Museum of American Art's mission is to preserve and protect the thousands of works that comprise our permanent collection.  Many of these pieces will sooner or later require cleaning, frame repair, and conservation/restoration.  In 2008, the museum established the White Glove Fund to aid in this important work.
Works by the following artists have benefited from this fund:
Robert Henri
John Marin
Charles Woodbury
Charles Burchfield
The White Glove Fund recently supported the repair and restoration for three of the museum's most beloved sculptures, Bernard Langlais' Bear, Lion, and Horse in Field. Read more about the restoration and watch a video on our News page.