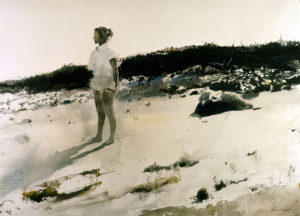 Carol on the Beach, 1950, watercolor, © Andrew Wyeth
These Wyeth works reside in the collection of Linda L. Bean, a member of one of Maine's most prominent families.  Her collection, assembled over the past 30 years, includes N. C. Wyeth, Jamie Wyeth, as well as Andrew's work.  This is the first time this assemblage of paintings has ever been shown in public.
Thank you to our exhibition sponsor, The Colonial Inn.